A week ago I drove to Stuttgart for a concert of Eskimo Callboy. It's been already the 2nd time this year but I just can't get enough of them. Also, this time their European tour was something special. They are no longer an unknown German Metalcore band but they became really famous in that scene so everthing was a little bigger this time and they even had a prober stage set. It looked so awesome! ♪
It was a cold and rainy day and I only wore a sweater and I was cold the whole time ☆⌒(>。≪). We had to wait about one and a half hour 'till we were allowed to enter the hall (it was a prober hall and not a club this time). They didn't even control bags and stuff. I think the staff wasn't able to cope with the sudden rush of people who tried to run inside.
Well, I was lucky and got the best place in the first row next to my best friend Sara. I was really impressed by the awesome stage. It was so huge and the scenery looked great!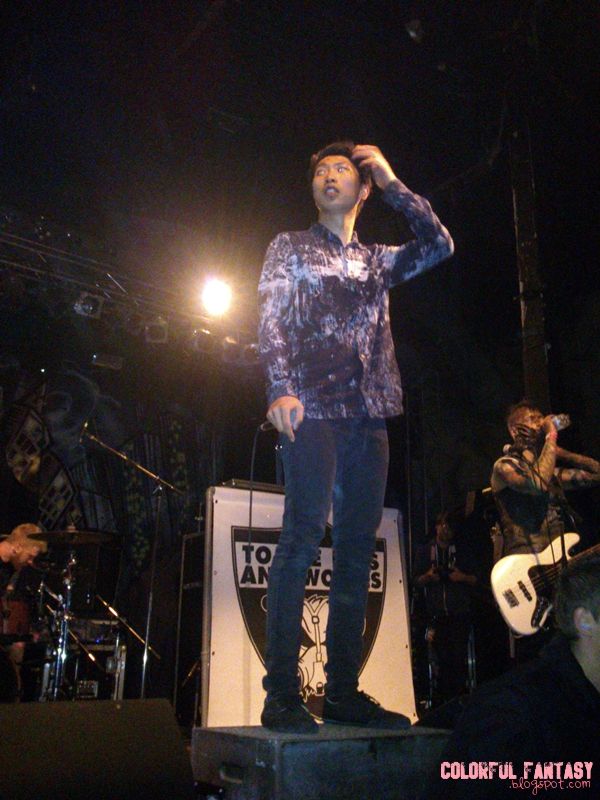 The first supporting act was To the rats and wolves (picture above and below) and I have to admit that they're such handsome guys. If there was an award for the best-looking Metalcore band - they would definitely win it!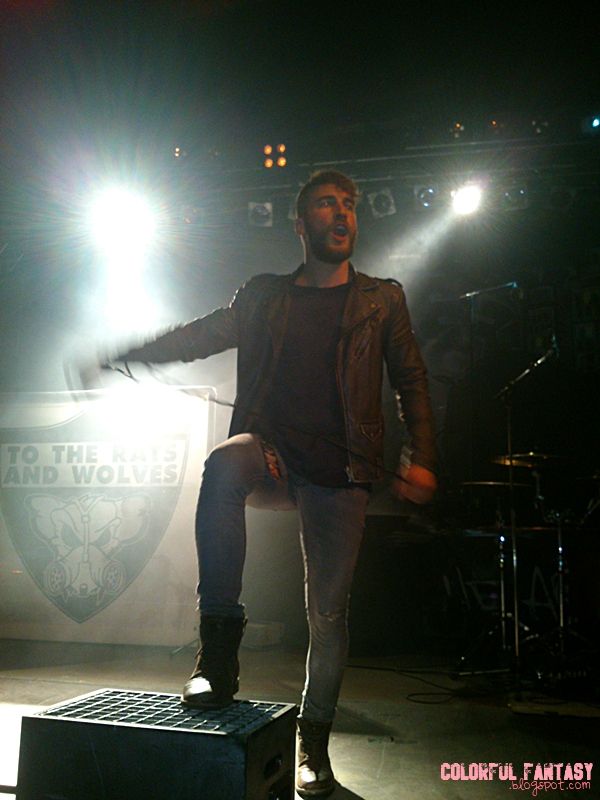 The second band was Her bright skies. Unfortunately, I don't have a good picture of them but the singer really reminded me of Ben Bruce (Asking Alexandria). They're both so tall and skinny and they have such a similar face.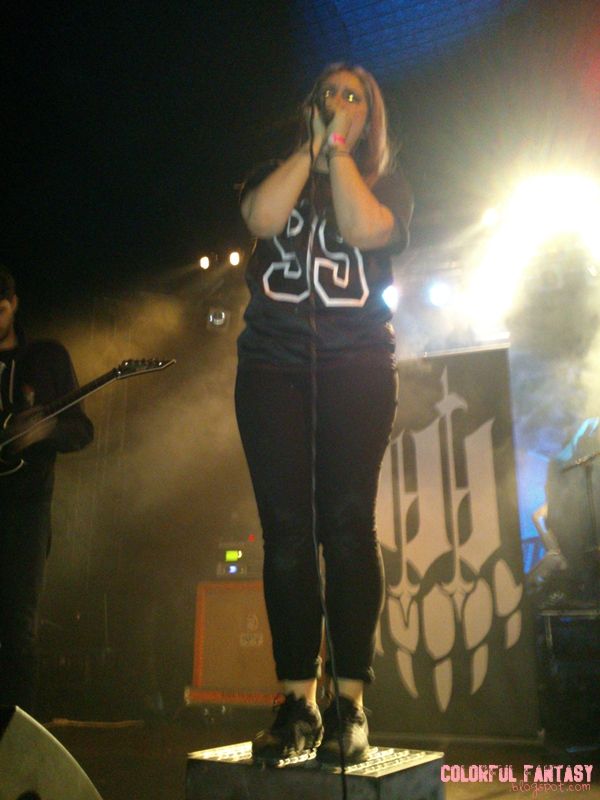 My camera sucks btw. :'D
The third act was Iwrestledabearonce. I was really looking forward to them because they're one of the first bands I've listened to when I started with this kind of music. Also, I think they're somehow special cause women in Metalcore bands are rather rare. (and

Courtney LaPlante

is definitely a fucking hot singer

♥

)
Okay, finally after three supporting acts, Eskimo Callboy started with their show. Their intro was like the last time CSTRP but this time they also played a video which was shown on a huge white curtain. When the video was finished, the curtain fell down and they start playing the rest of CSTRP and We are the mess.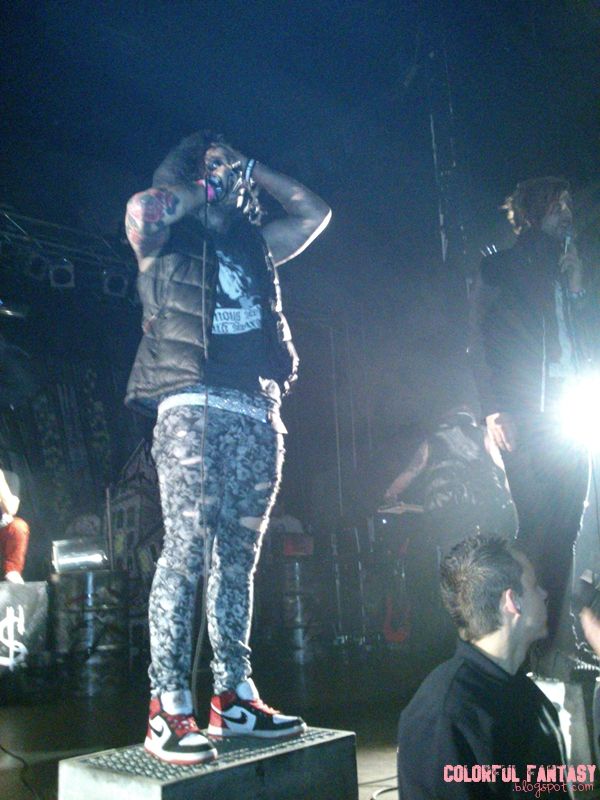 Sushi (left) and Kevin (right).
I loved their outfits. ♥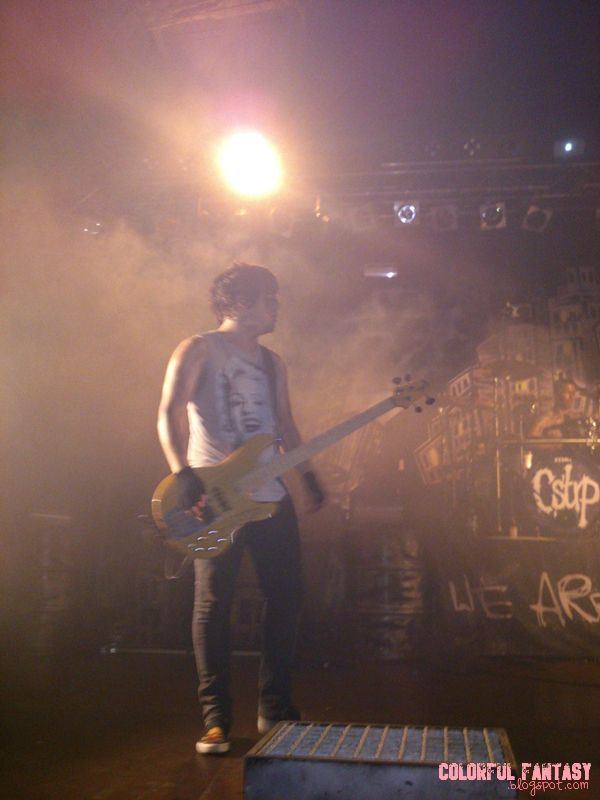 Daniel (Bass)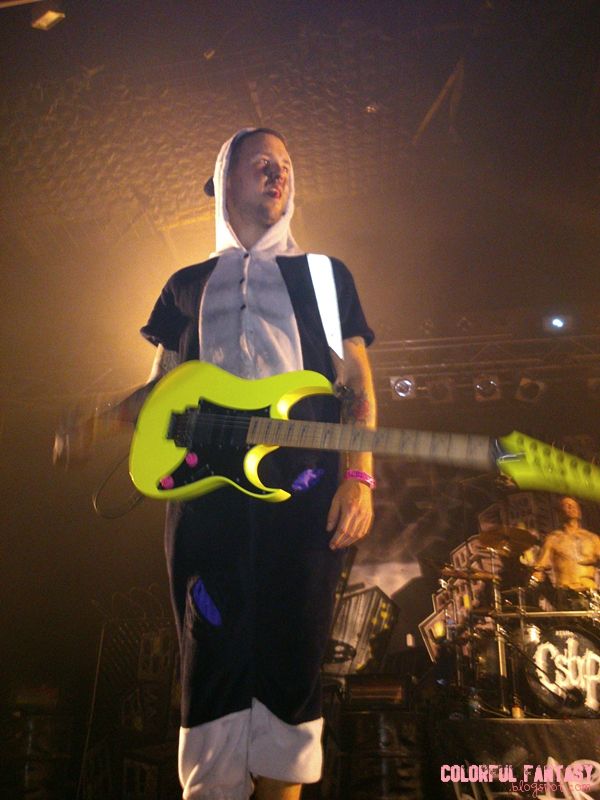 Daniel (Guitar)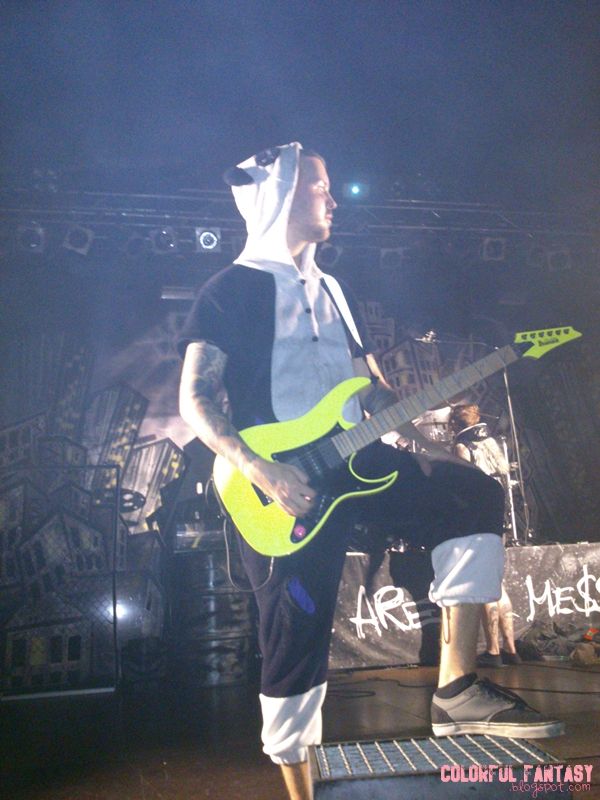 While singing the acoustic version of Never let you know Sushi stood on a guitar case ON the crowd. Don't know if it was a spontaneous idea but I was so worried that he would fell down but of course everything went well. They never played the acoustic version of that song before and it was so wonderful. I even had little tears in my eyes. (*´ο`*)
After they played their very last song Daniel

(guitarist)

gave me his pick. I was the happiest girl in this moment! ♥ Now I finally have a pick of my favourite band.
Wow, this post turned out to be pretty long. I'm sorry for that! ( ̄▽ ̄)ノ but I had to write my thoughts down. I think this week I will post another entry cause I have some new hairstyle ideas and I want to show the result to you. Also, I will get my second tongue piercing tomorrow (Oh my gosh, I'm already so nervous. Gaaaaah!) :) See you soon guys!