Hello to everyone! ♥

I'm very sorry for my boring entries but I slowly but surely turning into a very boring person too! I got the feeling that I just live for my work and have no time for my friends and my hobby anymore. And on top of this I'm feeling very exhausted and lonely since a few weeks now. However, that's not the topic of my entry! I got some new stuff which I want to show you. Please click on »read more« to read the full entry.
In my last entry I mentioned that I ordered a new bag and a new pair of shoes. Just some days after the post my bag arrived ♥
Angelic Pretty heart ladder pochette bag.
It's so lovely
O(≧∇≦)O
One and a half week later I got a letter from the customs. Of course they had my shoes! .O. Fortunately, my father drove to the customs office for me.
An*tai*na boots ♥
They're white but look kinda greyish in the picture. I'm sorry!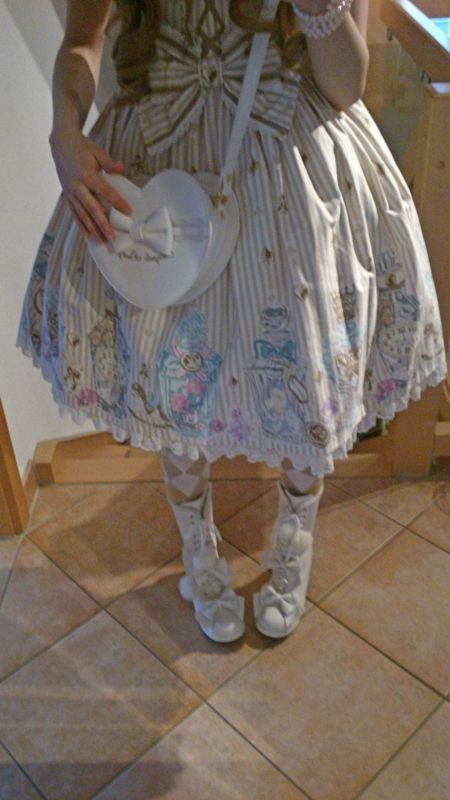 I'm happy that January is finally over! It was such a horrible month for me .
∀.

. So much work, the terrible weather (Is it already spring? Nobody knows!), feeling kinda sick and I couldn't see any of my friends!

It can't get any worse, so this month is going to be much better! I made some plans, so I don't have to stay in the house all day long.
⇒
On Tuesday I'm driving to Wiesbaden together with my friend Sara because of the Asking Alexandria concert! ♥ We're already so excited! .O. we're staying overnight and on Wednesday we'll spend the day in Frankfurt am Main just for shopping and spending the day together. I hope I can take some good photos for you! ♥
⇒

On 9th February I'm driving to Kaiserslautern to visit my friend Steph. I'm still not sure if I'll show you photos of that weekend because the only thing we planned so far is drinking. :D
⇒

Last but not least I'm going to the Eskimo Callboy concert on the 22nd in Stuttgart (again with Sara). Yeah, Eskimo Callboy again! I really like 'em ♥

I also wrote in my last entry that I wanted to make an outdoor photoshooting in the snow. Well..the problem is..THERE'S NO SNOW ANYMORE! .O. damn..I was too slow. But I won't cancel the shooting! The date isn't sure yet but it's going to be in February/March.

That's all for now. My next entry is going to be about the Asking Alexandria concert / my trip to Frankfurt. Keep looking forward to it.

By the way, I thought about doing the Lolita challenge (30 day or 52 week) but I'm not sure if someone would be interested in. What do you think about this idea?